News from R.U.S.Z Association
Benefiz zum Neustart - R.U.S.Z rockt die VHS
Ein Fest für die Freund*innen des R.U.S.Z und alle, die es werden wollen!
Nach all den Turbelenzen der letzten Wochen möchten wir uns für die Anteilnahme bedanken und mit Euch gemeinsam in der VHS Rudolfsheim-Fünfhaus unseren Neustart feiern.
Wann: Samstag, 25. November 2023  - ab 17:00
Wo: VHS Rudolfsheim-Fünfhaus, Schwendergasse 41, 1150 Wien
Wir sind wieder da! Ankick zur 2. Halbzeit!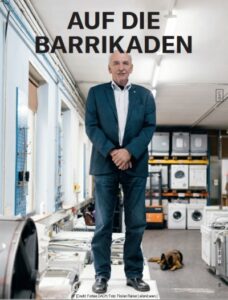 Ankick zur 2. Halbzeit
Der Reparaturbetrieb des Reparatur- und Servicezentrums R.U.S.Z, die R.U.S.Z GmbH, ist ja an seinem eigenen Ehrgeiz gescheitert und seit Mitte August in Konkurs. Als traditionelles Kreislaufwirtschaftsunternehmen hat es in Zeiten der Reparaturförderung expandiert und ist wegen des Aussetzens derselben in Schönheit gestorben.
Jetzt startet der R.U.S.Z – Verein das Profi-Zentrum für Notfall-Reparaturen an Waschmaschinen & Co. Die Zentrale, die diese Vor-Ort-Reparaturen steuert, ist bei der Wiener Volkshochschulen GmbH untergekommen. Bald wird es auch eine Werkstatt für Reparaturen an Kleingeräten geben.
Hier schließt sich der Kreis
Gestartet 1998 als sozial integrativer Betrieb (SÖB) des Verbandes Wiener Volksbildung hat das R.U.S.Z bis Ende 2007 eine Meisterleistung an sozialer Integration erbracht: 300 Langzeitarbeitslose über 45, Menschen mit Behinderungen, Mütter nach der Babypause und Haftentlassene konnten in den ersten Arbeitsmarkt reintegriert werden.
Abenteuer Wirtschaft
2008 machte sich das R.U.S.Z – nicht ganz freiwillig – selbständig. "Eigentlich war es immer Liebhaberei" sagt Sepp Eisenriegler, der "Lobbyist mit Lötkolben" (DIE ZEIT). Immerhin hat er "so nebenbei" mit seinem EU-Netzwerk wesentlich dazu beigetragen, dass es heute die Kreislaufwirtschaft als EU-Ordnungspolitik, ein Recht auf Reparatur und die Reparaturförderung gibt.
We thank you very much for the sympathy, the good wishes and the request of many customers and friends to open a donation account for the repair and service center R.U.S.Z!
If you want to support the R.U.S.Z - Association for the Promotion of Social Economy, which will gradually take over the repair activities previously carried out by R.U.S.Z. GmbH:
Thank you for your support!
Aktueller Newsletter zu unserer laufenden Arbeit und den Turbulenzen der letzten Wochen
Our newsletter called "R.U.S.Z-Flankerl" is currently published 6x/year and is about the most important topics that have occupied us in the weeks before: Repair, resource conservation, circular economy, climate protection and much more!
Read more in the current Flankerl or browse the Flankerl archive. You can also subscribe to the Flankerl here.
Die Hälfte der Reparaturkosten sparen? Seit 25. September 2023 ist der Reparaturbonus wieder beantragbar!
Dear Customers
Zur Verschärfung des Sicherheitsnetzes wurde der Reparaturbonus seitens des Ministeriums zwischen 2.7 und 25.9. unterbrochen und steht Ihnen ab sofort wieder zu Verfügung.
Mit dem Reparaturbonus erhalten Privatpersonen eine Förderung von bis zu 200 Euro für die Reparatur von Elektro- und Elektronikgeräten (50% der Bruttoreparaturkosten) und/oder bis zu 30 Euro für die Einholung eines Kostenvoranschlags. Der Bon wird von der Kundin/dem Kunden digital beantragt, bei der Bezahlung abgegeben und von uns bei der KPC (Kommunalcredit Public Consulting) eingereicht, welche die Fördersumme direkt auf das bei der Beantragung angegebene Konto überweist.
For order and more information visit www.reparaturbonus.at
The Reparaturbonus is a milestone for the international repair and climate protection movement and a continuation of the success story of the Viennese Reparaturbon. All eyes on Austria and recently you can hear Sepp Eisenriegler
on US internet radio
!
Certified Anglers 2.0: We fight the shortage of skilled workers!
The second run of our AMS-supported ReTech training program has been successfully completed. Our strategy against the shortage of skilled repair workers is working, we are working on a continuation and would like to thank all participants!
The next generation: R.U.S.Z Social Franchising in the D-A-CH Region
After 30 years of intense lobbying for resource conservation, I am pleased to be able to harvest the fruits. You can find more information here.
+
tons of recycled waste equipment per year
+
repaired equipment per year
Repair and ReUse are climate protection
+
tons CO2 footprint of R.U.S.Z
+
tons of CO2 saved through repair and reuse
Here you can find some customer opinions (original german comments translated by us):
Danke für die tadellose Reparatur meiner Spülmaschine. Abwicklung hat prima funktioniert. Der Techniker – Herr Y. – war schnell und sehr kompetent. Dank des Reparatur Gutscheins hat sich die Aktion trotz Alter des Gerätes doch noch ausgezahlt.
Ich bin jedenfalls sehr zufrieden.
---
- Klaus
(17. Februar 2023)
Mein Geschirrspüler wollte leider nicht und über den Wiener Reparaturbonus, bin ich auf diesen Firma gestoßen. Habe sofort einen Termin bekommen, der Hr. war pünktlich da, hat den Schaden entdeckt und das Ersatzteil bestellt, das auch 2 Tage später, schon da war und eingebaut werden konnte. Für beide Termine gab es eine Rechnung, mit genauer Auflistung der Kosten – alles verständlich für einen Laien. Der Kundenservice war auch sehr nett. Würde ich bei Problemen jederzeit wieder wählen.
---
- Lisa
(14. Februar 2023)
Meine Waschmaschine war schwierig, sie brauchte drei Anläufe um repariert zu werden. Der super-kompetente Techniker hat das alles ganz toll in den Griff gekriegt (Motor, kaputtes Paneel, Elektronik).
Und das zu einem sehr fairen Preis. Reparaturbonus war natürlich auch hilfreich. DANKE
---
- Reinhilde
(26. Jänner 2023)
Meine Eudora funktioniert wieder. Der Techniker war sehr kompetent und freundlich. Dank Reparaturbonus musste ich nur die Hälfte der Kosten zahlen. Besten Dank.
---
- Paolo
(11. Dezember 2022)
My washing machine works again! A very competent and quick repair. Broken parts changed, repairsbon accepted and repaired without complications. To recommend 100%!
---
- Monika
(21. November 2022)

Our most important references are satisfied customers. Furthermore, we are also very pleased to have been awarded numerous prizes.